2013 - 2014 English Courses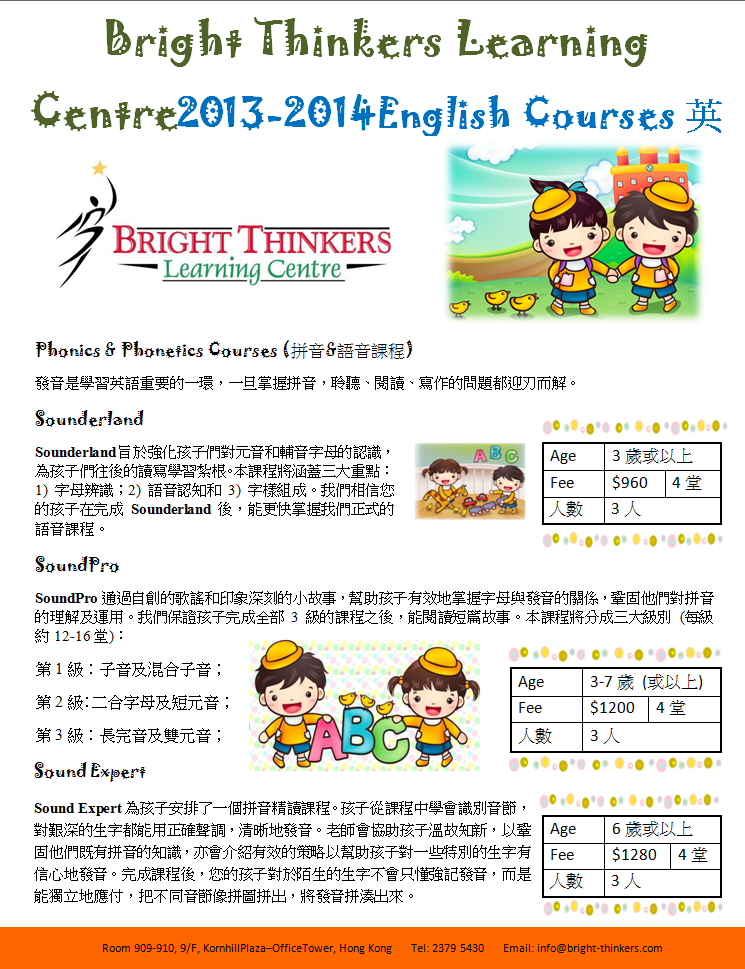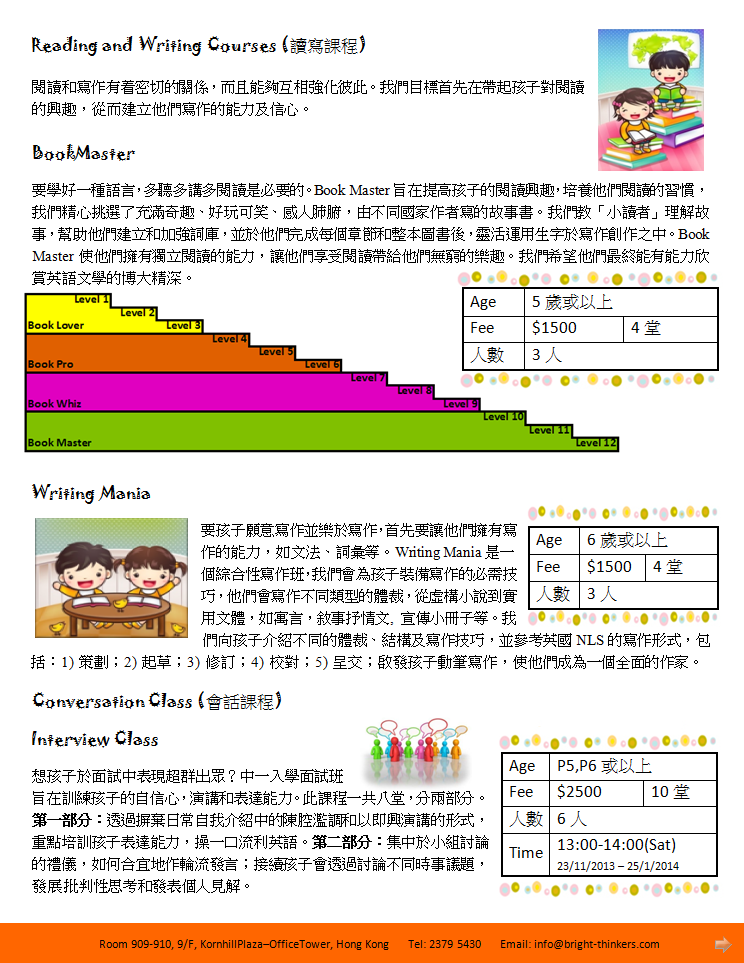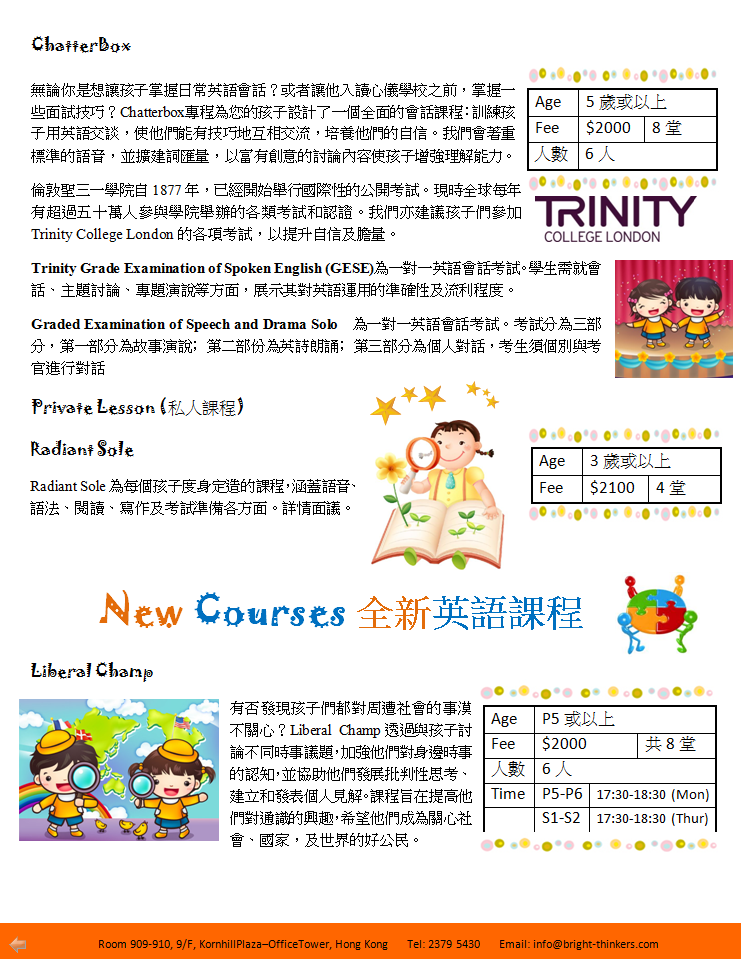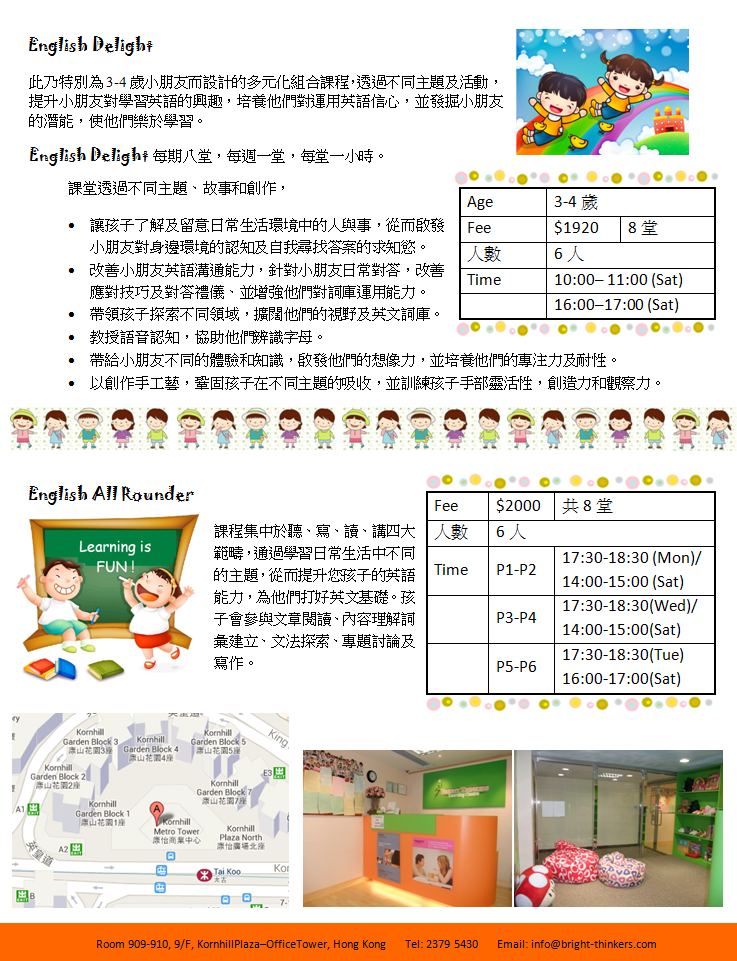 Regular Courses


Literary All-Rounder (Reading and Writing)

The one-and-a-half hour course combines the essence of BookMaster and PenPal. It aims to train up your children as a powerful English reader and writer. It is our objective to see that they will have no fear in coming across vocabulary or putting ideas into words ever again.

Age: 6 years old or above
Fee: *HK$1980 per month (4 sessions)




Interview Class

Indubitably, interviews are now part of your child's life. They will com across interviews of different kinds throughout their schooling. The aim of our interview class is to train your child to be presentable and articulate. This is with the view to distinguish your child from others, not only in the interview, but also in their lives.

Through watching video clips, reading newspaper articles and analyzing topic-related flash cards, your child will be taught to organize and digest materials, in addition to being able to participate actively in group discussions and conduct individual presentations.

Introducing and explaining themselves in English will become second nature. In exposing your child to social issues, we will become second nature. In exposing your child to social issues, we will guide them in giving unique and comprehensive opinions.

Age: 5 years old or above
Fee: HK$1520 per month (4 sessions)
Groups of 2 to 4




PenPal (Creative Writing)

Have you ever imagined that your children would one day pick up a pen and write their own story enthusiastically? Your won't believe their changes once they've started to mak up their own imaginative world. PenPal provides substance to your children's writing by inspiring them with short interesting pieces and guide them to complete an integrated writing step by step.

Age: 6 years old or above
Fee: HK$1500 per month (4 sessions)




Sounderland

Our Sounderland, a prerequisite of SoundPro, reinforces the alphabet skills that your children need for their future successful literacy. It is specially designed to grow in their knowledge of letters. There are 3 major aspects of alphabet developmental skills that this course focuses on: letter recognition, phonological awareness and letter formation. It is expected that the completion of Sounderland paves your childrenˇ¦s way toward our regular phonics course

Age: around 3 years old
Fee: HK$960 per month (4 sessions)




SoundPro (Phonics)

Sound is the key to all aspect of English. Once one has got hold of the phonetics, one will find out that it's such an easy task to listen, read and write English. SoundPro introduces your children the English phonetics with creative songs and unforgettable kiddies stories. We guarantee your child to own the ability to read simple short story after completing all 3 levels.

Age: 3 - 7 years old
Fee: HK$1200 per month (4 sessions) - around 12 sessions per level
- 12 sessions per level




Sound Expert

Starting to worry that your childˇ¦s phonics is getting a little rusty and soon it will slip from their memory altogether? Bright Thinkers has specifically tailor-made a course this Easter holiday that will enable your child to recognize syllables, use the correct tone of voice and pronounce even more difficult words articulately.
We will refresh and strengthen their acquired phonics skills and introduce more effective tricks and tactics that will help them to pronounce difficult words confidently. Upon completion, your child will be able to tackle a new word independently, by piecing together parts of phonetics like a puzzle; rather than cramming the sound of every new word into their head.

Age: 6 years old and above
Fee HK$1280 per month (4 sessions)




Radiant Sole (Private Class)

Tailor-made sessions will be given to your child which cover all areas from phonics, grammar to reading and writing. Kindly call for more details.

Fee: HK$2100 per month (4 sessions)




BookMaster (Storybook Reading)

do you find the stack of books that you've bought for your children is always sitting on the shelf idly? "It seems a mission impossible for my child to prize open a book, let alone to enjoy it" complained a discouraged mom.
In order to arouse children's interest in picking up the reading habit, we choose surprising, hilarious, exciting and touching storybooks of international authors. Little readers are taught to comprehend and enjoy the story independently. It is our wish to see that they could eventually own the ability to appreciate the profundity of English literature.

Age: 5 years old or above
Fee: *HK$1500 per month (4 sessions)




ChatterBox (Conversation Class)

Whether you want your child to speak English well on a daily basis or to learn interview tactics before sending them to their favorite schools, ChatterBox provides what your child needs. They will be trained to listen skillfully, talk confidently, interact actively and communicate smoothly in English. Our emphasis is on learning legitimate pronunciation, building up their work bank and strengthening their comprehension skill through discussing inspirational texts.

Students are recommended to participate in the assessment of Grade and Certificate Examination to Speech and Drama of Trinity or Trinity's Spoken English Examinations for Speakers of Other Languages (ESOL)
Age: 5 years old or above
Fee: HK$1520 per month (4 sessions)




Trinity Guildhall Speech and Drama

Presenting a speech is never an easy task! Want your child to present convincingly on a subject of matter? You will find this Trinity Guildhall Speech and Drama course suitable for him/her. It helps your child to deliver a speech with conviction and confidence; plus a sense of timing and an appropriate use of intonation and gestures.
Students are recommended to participate in Grade and Certificate Examination in Speech and Drama of Trinity Examinations are formally accredited by the UK Government's Qualifications& Curriculum Authority (QCA). A Certificate will be issued with comments from a qualified British examiner. Students in this course will usual enroll in the Hong Kong Schools Speech Festival.

Age: 5 years old or above
Fee: HK$1520 per month (4 sessions)




Trinity Spoken English Examinations

Ever thought of knowing the communication competence of your children? It seems that there are not so many renowned assessment authorities out their to give true credit to your children who possess excellent communication skills. Yet, don't be disappointed! Trinity Guildhall will be a legitimate authority to credit your children's competence on spoken English. The utmost objective of our training is to help your children to engage with analytic and critical thoughts, to persuade, to negotiate and to explain ideas in a logical manner.

Age: 5 years old or above
Fee: HK$1520 per month (4 sessions)
Groups of 2 to 4

Note: Assessment is required for all courses.